News was confirmed by UFC president Dana White today that Mark Munoz is out of his No. 1 middleweight contender bout with Chael Sonnen on January 28th for UFC on FOX 2 in Chicago.
The octagon head honcho also made it clear on his twitter account who was going to try their luck against reigning 185lbs champ Anderson Silva later this year: the winner of Sonnen and his replacement opponent Michael Bisping. 
This co-main event slot, anticipated only second on the card only to Rashad Evans vs. Phil Davis (which coincidently could crown another divisional No. 1 contender), was always understood by fans and pundits as an "unofficial" contender bout. Now all of us Sonnen fans will be short of guaranteed to see our anti-hero once again in the cage with his arachnid arch-nemesis "The Spider"—the man who spun together Sonnen's arm and neck into a last minute fight ending victory.
Frankly, Bisping is a much easier fight for Sonnen than Munoz would have been. There's no denying Bisping's rightful place in the middleweight heirachy as a Top 5 divisional competitor. He has proven himself consistently against decent opponents, only losing three times out of his total 15 appearances in the octagon, won season three of the Ultimate Fighter and participated in three "Fight of the Night" performances. 
This British bad boy is no slouch and shouldn't be taken lightly. Unfortunately for him and his past accolades, Sonnen is a terrible opponent stylistically. 
At first glance, this is a classic wrestler vs striker match. From a technical standpoint, each man is far superior than the other when it comes to their own advantageous discipline. 
Bisping's kickboxing is too accurate and technical for Sonnen's to be considered in the same league. On the flip side, the "American Gangster's" wrestling is too relentless and effective for Bisping to even dream about throwing a singlet on in training leading up to this bout.
The problem for Bisping is Sonnen possesses enough answers and tools to overcompensate his own striking deficit while concurrently nullifying the Brit's one chance of winning. Sonnen has a better chance of surviving on his feet in the world of striking—just look how well he hung with Silva, who is clearly a more notable striker than Bisping—than his opponent has against the take down.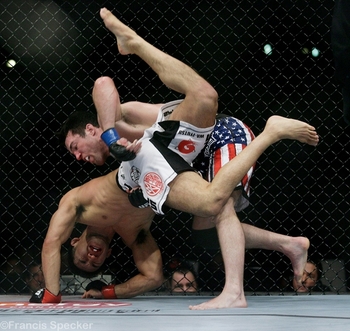 That's not to discredit Bisping's takedown defense, it's some of the best in the division, just not at the level where it will need to be to stop some of the sport's best takedowns.
To make matters worse, Bisping's mediocre power won't be enough to threaten Sonnen's battled tested chin either. So there goes his chances of putting Sonnen to sleep.
All of these factors would be missing from the table if Munoz could somehow stand across from Sonnen in Chicago. Unlike the Brit, Munoz has comparable wrestling and enough dynamite power to really even out the odds. 
If the undisputed divisional and pound-for-pound champ had issues knocking Sonnen down and defending his takedown, the chances of Bisping being able to do so are slim to none.
It's going to be a long, ugly and painful night for the Brit as soon as his legs get tied together by Chael's God-fearing American arms.
The Red Coat is choking, the Red Coat is choking!