The question of tapping to submissions and maintaining fighters' safety is an exclusive responsibility of the one stepping into the cage to do battle. Of course the referee is professionally obligated to prevent excessive damage to a fighter's health, to make sure nobody gets permanently disabled. But, the line needs to be drawn somewhere in the sand to preserve the spirit of competition.
That line was drawn all over former Strikeforce champion Miesha Tate's dislocated elbow over the weekend when raising star Ronda Rousey decided to take Tate's arm places no human arm wants to follow. Rousey, now the women's Strikeforce bantamweight (135lbs) title holder, took home Tate's arm as a mangled mantle piece via her eighth consecutive first round armbar victory, totaling both her amateur and professional career.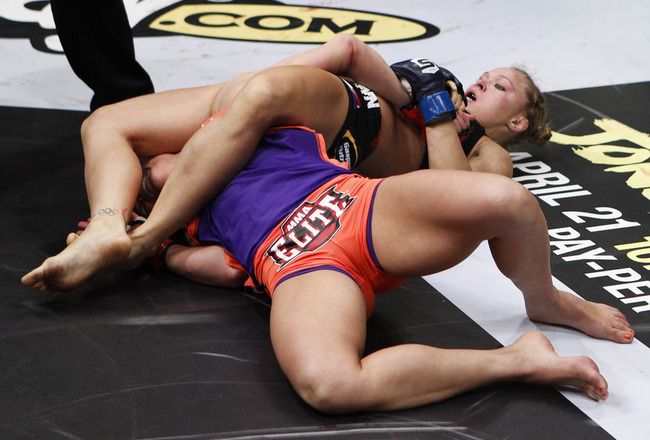 In what was a highly anticipated bout between two of the most talented females in MMA, Tate ended months of trash talk and pre-fight speculation by simply becoming another victim etched in Rousey's growing portfolio. To her credit, she stubbornly hung in the hold without tapping until her arm was a popped pretzel, making the ref stop the match before blowing chunks.
As a result, this graphic victory has begged the question: what is considered toughness and what is deemed stupidity. Granted, like previously mentioned, the ref did his part by giving Tate plenty of time to escape and turn her fortunes around before finally stopping the contest, saving whatever intact ligaments were left.
At that point, there were no decisions left for the ref to make because Tate refused to give Rousey the pleasure of yet another opponent tapping to her vicious armbars. She instead decided to violently squirm beneath Rousey's legs, scream in pain as her arm got torqued, and ultimately extend her medical suspension—essentially a unpaid vacation from competition—by taking more damage than what was necessary.
Was Tate displaying the tenacity of a courageous champion refusing defeat? Unfortunately, as the results have proven, the answer is no.
Whenever an officiator extends a fighter's chances of surviving bad positions, it then becomes the fighter or their corner's responsibility to know when the fat lady has sung their song of defeat.
Furthermore, there is nothing glorious or notable in the fight game about masochistic thickheaded-ness, longer leave of absences, sustaining preventable injuries, fighting emotionally, and most importantly, tapping. Graciously bowing out in defeat is a natural part of not only sporting competitions—a bitter pill to swallow for the Antonio Nogueiras and Miesha Tates of the world—but life too.
Let Miesha Tate's inability to know when to quit during a combative sporting competition be a lesson to all those fighters who value working limbs. Live to get paid another day.